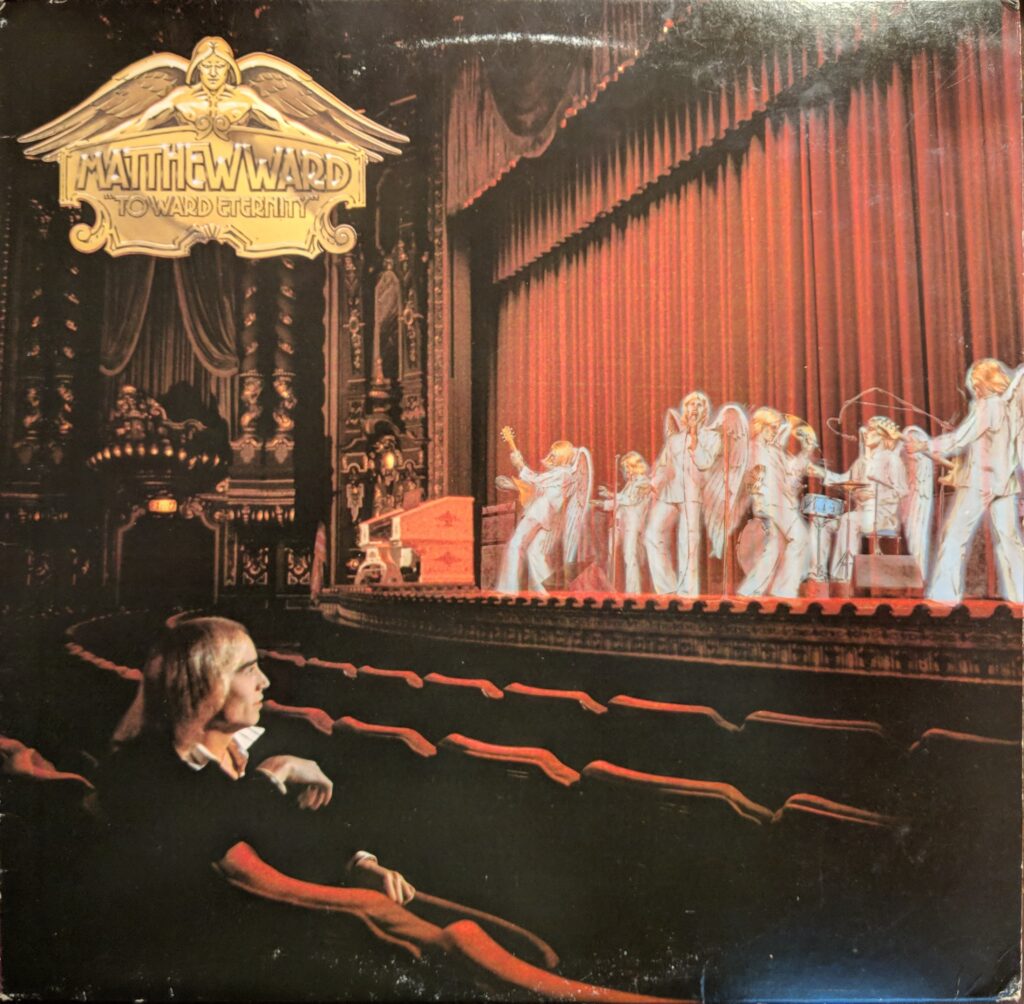 I have heard from different sources that Matthew Ward's "Toward Eternity" is either the last Jesus Music album or the first CCM album. Released right around the turn of the decade that many define as the historical marker for the two genres. Produced and written by many that were the founder and stalwarts of the Jesus Music era (Randy Stonehill, Phil Keaggy, Keith Green, Michael Omartian), but decidedly more polished, rock and pop driven than anything released previously.
I simply call it a classic that is clearly the center of a musical paradigm shirt in CCM. Production was stellar, performances spotless and Ward's vocals soar. This is not a solo project from 1/3 of 2nd Chapter of Acts, it is a brilliant rock album conceived and released by an utterly unique and engaging artist in his own right. These are not left-overs from his group, but rather songs that far exceed much of what his siblings were releasing at the time.
Musicians on the album included those mentioned above along with Abraham Laboriel, David Kemper, Ray Parker Jr. and many more studio pros. The album is nearly flawless and many aficionados will list it in their all time Top 10. It was also released at a time when many Christian Music buffs were cutting their teeth on the genre and this album proved to be a revelation to many. I would not be surprised to find many of the "older" readers complaining on its placement in the countdown, and I will not disagree; I understand their reasoning.
Oddly enough, even fans of hard rock love the album despite its general lack of anything leaning in that direction. Much has to do with the great songs and Keaggy's outrageous guitar work. It is always odd that Keaggy will often lend some of his best work on projects for other artists. But ultimately it comes down to the fact that Ward possesses one of the greatest voices on the planet. Period!
The album kicks off with the funky rock number "It's Alright" lead by Keaggy's great guitar work. This is a fearless rock groove with a monster bass line driving the low-end. The song is built around a particular end times expectation complete with money system, beast and mark. That notwithstanding, the song is just so good. The great vocal bridge leads to Keaggy's driving rhythm guitar work.
Limited breaks between songs leads the starter right into a great Keith green piano driven song, "Soft Spot." The Beatlesque (Penny Lane) sound of the chorus complete with a great string arrangement softens what could have been a much heavier song, and it actually works in the artists favor given the content of the song.
The acoustic "Noah" immediately sounds like a Phil Keaggy song. And it is. Written by Keaggy, Ward recorded it and someone once mentioned that Keaggy didn't want to record it after hearing Ward's masterful vocals. I don't know if it's one of those popular urban legends as Keaggy eventually would record his own version.
A personal favorite is the rocker, "Till the Walls Come Down." Like the lead track, the song is one of the heavier musically and features Keaggy's awesome guitar work, especially the solo. Written by Ward, Keaggy and Green (wow, just think about that for a moment), the song is most noted for the Michael Omartian lead "killer bees." One must listen to truly understand the bees reference.
Returning to the most pop oriented piano sound with Green's "Better Than This," Ward let's the vocals go on a few bright moments when he hits some unreal notes. The song has a great hook, but the same can be said for the entire album. I can go years in between listens and still never miss a note when singing along.
What would be initially the start of side two, "Your Love Came Over Me" is great Doobie Brothers (China Grove) type riff that never quits throughout. I know it may be hard for readers today to understand just how rare it was for a "safe" artist to deliver such a rock oriented album. The industry at the time would allow for the occasional pop rock riff, but rarely an album that rocked from start to finish.
The song was written by Keith Green and a gentlemen named Todd Fishkind. Fishkind may be one of the most important songwriters and musicians from the era that no one really knows about. He was very close to Green and they wrote quite a bit together, including the classic "Your Love Broke Through." Fishkind would also wrote a book about Keith. He was also considered quite the musician.
"Hold On" follows and sounds like something off pop radio at the time. If not for Ward's distinctive vocals I would swear it could have been a single off of Chicago 13. In fact, it would have been the best song off of Chicago 13.
The borderline "world music" influenced "Angels Unaware" is the only truly dated song from the project. The lyrics about guardian angels at times are silly (something about the "honkin' flu") but no more silly than what Amy Grant would record nearly a decade later.
The hiccup of "Angels Unaware" is immediately forgotten with the stunning and emotionally driving ballad, "Summer Snow." The simple song of faith and God's timing is exclusively driven by piano and strings. Tom Keene's great string arrangement supports Green's beautiful playing. Matthew shows the range both vocally and emotionally here. It ranks amongst the true classic from the era.
The "much too short" album closes with an Anne Herring tune, "The Vineyard." It is all but an instrumental, as the only vocals are "ooh's" playing the part of strings on top of Tom Keene's beautiful piano work. It is a contemplative ending to an utterly brilliant and timeless classic album.
Whether it ended one or era or started another is not of consequence and the debate shall continue. What is of consequence is how truly revelatory and ground breaking the album was and how, over 30 years later, it is still a brilliant masterpiece by a wonderful artist.
Track Listing:
1 – It's All Right – 2:34
2 – Soft Spot – 3:42
3 – Noah's Song – 3:56
4 – Till The Walls Fall Down – 2:29
5 – Gotta Do Better Than This – 3:23
6 – Your Love Came Over Me – 4:07
7 – Hold On – 3:10
8 – Angels Unaware – 2:26
9 – Summer Snow – 3:36
10 – The Vineyard – 2:18
Credits:
Scotty Edwards – Bass
Todd Fishkind – Songwriter
Jay Graydon – Guitars
Keith Green – Songwriter, Piano
Melody Green – Songwriter
Annie Herring – Songwriter
Buck Herring – Producer, Engineer, Songwriter
Phil Keaggy – Songwriter, Guitars
Tom Keene – String Arranger, Piano
David Kemper – Drums
Abraham Laboriel – Bass
Michael Omartian – Horn Arranger, Songwriter, Synthesizer, Piano, Fender Rhodes, Percussion
Ray Parker, Jr. – Guitars
Matthew Ward – Songwriter, Vocal Arranger, Vocals
Companies, etc.
Phonographic Copyright (p) – Sparrow Records, Inc.
Recorded At – Buckskin Studio
Recorded At – Sunwest Recording Studios
Please follow and like us: