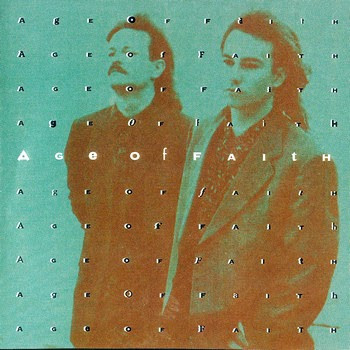 This is the first album from Age of Faith who at this point were just Jimi Ray and Rick Harwell. That said for this album I think they had the entire Huff family join them. Brothers David, Clayborn, and Rayborn Huff along with David's son Lance are all on this album. David Huff also sat at the production table where is well suited. With all these great people involved it's no surprise that this album is outstanding. There's even an excellent cover of Donna Summer's song Unconditional Love. I was actually quite surprised how great this album was. In my opinion 1991 was the era of Christian music going to the dogs but not this album. It's definitely a must listen.
Tracklist
1 – God's Got An Army – 4:56
2 – Take The Low Road – 3:32
3 – Sarah – 3:33
4 – Love – 3:59
5 – For Heaven's Sake – 4:19
6 – Unconditional Love – 3:39
7 – The Way That You Trust Me – 4:37
8 – Arms Of Mercy – 3:38
9 – Tender Mercies – 3:51
10 – Last Night – 4:54
11 – Grace – 3:42
Credits
Mark Baldwin – producer, arranger, arranging, songwriter, guitar, keyboards, slide guitar, solo, acoustic guitar
Andy Ivey – executive producer
Bret Teegarden – keyboard, overdubbing, keyboards, additional recordings, mix engineer
Ronnie Brookshire – recording engineer
David Huff – producer, guitar, background vocals, engineer, remixing
Jimi Ray – songwriter, guitar
Rick Harwell – songwriter, keyboards, background vocals, hammond, melodica
Leonard Ahlstrom – songwriter
Ron Collins – songwriter, background vocals
Billy Smiley – songwriter
Donna Summer – lyrics
Michael Omartian – music
Brian White – songwriter
John Hammond – drums, drum, samples
Gary Lunn – bass, drum programming
Chris Rodriguez – background vocals
Rick Florian – background vocals, harmony vocals
Mark Pogue – background vocals
Youth of First Baptist Church – guest, children's chorus
Lance Huff – drums
Clayborn Huff – bass guitar, background vocals
Rayborn Huff – keyboards, additional programming, background vocals
Lloyd Bustard – background vocals
Joe Hogue – keyboards
Eric Darken – percussion
Kim Thomas – guest, vocals, autoharp
Scott Carter – engineer, assistant mixer
Companies, etc.
Phonographic Copyright ℗ – Benson Music Group, Inc.
Copyright © – Benson Music Group, Inc.
Distributed By – Benson Music Group
Distributed By – R.G. Mitchell Family Books, Inc.