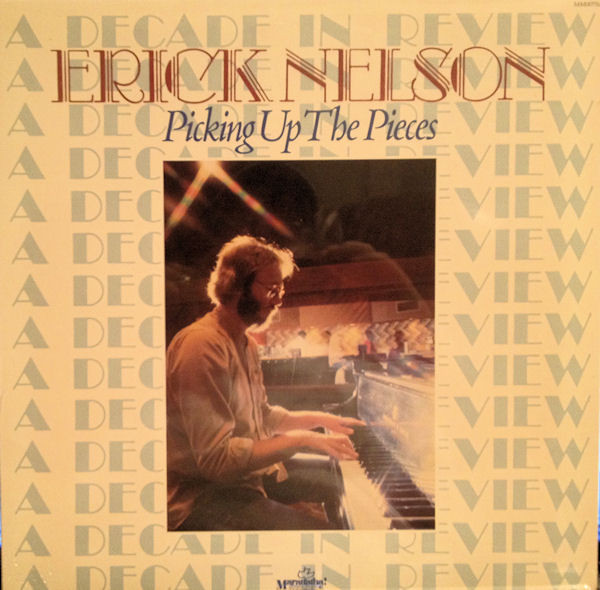 Erick released this greatest hits package in 1980. It features his work as a solo artist as well as his work with band Good News and Michele Pillar. There is one fresh track on the album "Jesus Is Calling". Of note on the album is his and Michelle's cover of "LOve Hurts" that we usually identify as a Nazareth song though actually it was first releasd by the Everly Brothers. The following is the original source of the tracks;
1, 5 – Good News – Good News
2 – Various – Maranatha! 2
3, 6 – Erick Nelson – Flow River Flow
4 – The Maranatha Singers – The Praise Album
8, 9, 10 – Erick Nelson And Michele Pillar – The Misfit
11 – Various – Hosanna
Track 7 recorded for this compilation.
Tracklist
1 – Good News – Picking Up The Pieces
2 – Erick Nelson – He Lives
3 – Erick Nelson – Soldiers Of The Cross
4 – The Maranatha Singers – Set My Spirit Free
5 – Erick Nelson and Michele Pillar – Jimmy
6 – Erick Nelson – Flow River Flow
7 – Erick Nelson – Jesus Is Calling
8 – Erick Nelson and Michele Pillar – Martyr Song
9 – Erick Nelson and Michele Pillar – Love Hurts/He Gave Me Love
10 – Erick Nelson and Michele Pillar – The Misfit
11 – Erick Nelson – Fairest Lord Jesus
Credits
Artwork, Design – Neal Buchanan
Bass – Abraham Laboriel, Bill Batstone, Darrell Cook, Erick Nelson, Henry Davis, John Belles
Cover, Photography By – Gary Null
Drums – Bill Maxwell, David Diggs, John Mehler, John Raines, Keith Edwards, Mike Fickling
Electric Piano – Erick Nelson
Engineer – Bill Taylor, Buddy King, Chris Taylor, Dan Willard, Jonathan Brown, Marc Piscitelli
Guitar – Craig Stevens, Hadley Hockensmith, John Wickham, Randy Mitchell
Piano – Erick Nelson, Harlan Rogers
Producer – Erick Nelson, Good News, Harlan Rogers, Jonathan Brown, Lenny Roberts, Peter Jacobs, Tom Stipe, Tom Coomes
Vocals – Erick Nelson
Companies, etc.
Distributed By – Word, Inc.
Recorded At – Buddy King Studios, Huntington Beach, CA
Recorded At – Larrabee Sound Studios
Recorded At – Maranatha! Studio
Recorded At – Mama Jo's
Recorded At – Whitefield Studios
Remixed At – Maranatha! Studio
Copyright © – Maranatha! Music
Copyright © – Erick Nelson
Phonographic Copyright ℗ – Maranatha! Music
Published By – Maranatha Music
Published By – House Of Bryant Publishing