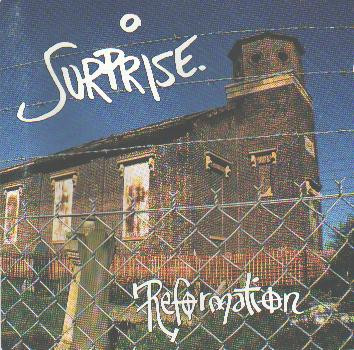 Reformation is the excellent sophomore studio album by Sydney band Surprise (previously known as Surprise Surprise), released by American record label, Refuge Records. The band was locally managed by David Smallbone who is the father of renowned CCM artist, Rebecca St. James. Out of all the 80s Australian bands I have reviewed so far, this is one of my favourite music finds. In preparing for this review I've listened to this album several times, and I still love it. The band's music style is best described as 'eclectic' – ranging from rockabilly ('Into The Light'), pop, rock, shock rock ('Jack The Ripper?'), alternative, and even some hard rock/metal. What keeps things interesting is that the band has a male (Alexander MacDonald) and female vocalist (Lisa Parsons). The band are not as direct or in your face when it comes to sharing their Christian faith & worldview as other bands, and yet they share it in creative and sometimes witty/humorous ways. For example, in one of my favourite songs, 'The Sixty-Six', when referring to the canon of the Bible, the lyrics are:
I know 66 reasons for all these feelings inside my head.
I've seen 39 old ones full of bold ones and what You said.
Be still and know I am God…
I know that 27 speak of heaven, and that You bled.
Another great lyric is: No condemnation in the Him of Hymns, when life ends is when it all begins.
Another highlight are the guest vocals provided by In The Silence's John Dickson on the track 'Destroy all Monsters/Carnival Freakout/Onward' (the 'Onward' part of the song is the band's great remake of the classic hymn 'Onward Christian Soldiers').
The 13th track which is a bonus song contains the lyric:
I believe in the canon.
I believe in three-in-one.
I believe in the sixty-six, and the Virgin's holy Son.
I'm looking forward to giving the band's debut album, Fish!!!, on Refuge Records another listen.
Contributor – Frank Axel Rasenberger
Tracklist
1 – A-Z – 2:31
2 – Living Is Easy – 3:23
3 – Madder Than Me – 3:58
4 – Destroy All Monsters/Carnival Freakout/Onward – 3:35
5 – Into the Light – 2:32
6 – Jack the Ripper? – 2:29
7 – Slash'n'Burn – 2:41
8 – Voice Inside – 3:15
9 – Victim of Love – 1:50
10 – Look Inside Your Heart – 3:15
11 – The Sixty-Six – 2:15
12 – Come Back Today – 2:58
13 – I Believe (Bonus Track) – 3:03
Credits
Backing Vocals – Allan Dowthwaite, David Welch, Malcolm Kiely
Bass – Malcolm Kiely
Drums – Allan Dowthwaite
Engineer – Dave Simpfendorfer
Guitar – Alexander MacDonald
Keyboards – David Welch
Mixed By – Jeff Todd
Producer – Dave Simpfendorfer, Surprise
Vocals – Alexander MacDonald, Lisa Parsons
Companies, etc.
Recorded At – Windwood Studios