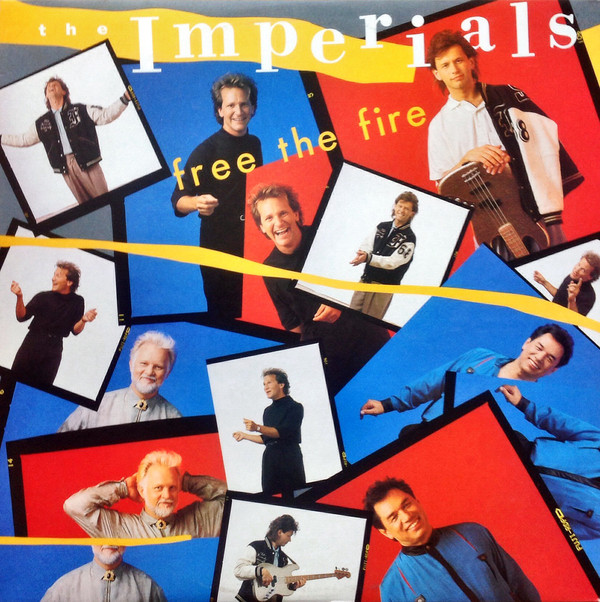 This was the Imperials album for 1988. They didn't put out an album every year but almost. They toured so heavy that they missed the occasional year. After the shock of their previous album, "This Year's Model", this one wasn't quite as rock and leaned back to Pop. Not that that album was rock but it was Rock for them. This is a solid Pop album and the vocals are even better than "This Years Model" in my opinion. This album is probably my second most liked from them and it's a solid Pop effort. The album had an awesome 2 #2 singles, "Free The Fire", and "The Boss". "You" also made it to #24. I really like Dann Huff's guitar work on the intro to "Higher Things" though that's where I end liking the song. The intro doesn't fit the song and they did one of those stupid abrupt ends. Not a producing masterpiece that one. That said this is a pretty good album and one of their best in my opinion.
Tracklist
1 – Free The Fire – 5:11
2 – Wild Geese – 4:08
3 – City In The Sky – 4:56
4 – You – 4:55
5 – The Boss – 5:17
6 – Higher Things – 5:11
7 – Rest In Your Arms – 4:16
8 – Let It Go – 4:15
9 – Better Than I Know Myself – 4:08
10 – Touchin' Me – 4:03
11 – I Just Came To Praise The Lord – 1:59
Credits
A&R – Lynn Nichols, Mark Maxwell
Art Direction, Design – Roland Young
Band [The Imperials Are] – Armond Morales, David Will, Jimmie Lee, Ron Hemby
Engineer – Bart Stevens, Wade Jaynes
Mastered By – Doug Sax
Bass – Jimmie Lee Sloas
Drums – Paul Leim
Guitar – Dann Huff
Keyboards – Robbie Buchanan
Percussion – Lenny Castro
Piano, Synthesizer – Michael Omartian
Photography By – Howard Rosenberg
Producer, Engineer – Bill Schnee
Producer – Deborah Klein
Companies, etc.
Phonographic Copyright (p) – Word, Inc.
Copyright (c) – Word, Inc.
Manufactured By – Word, Inc.
Pressed By – Discovery Systems
Recorded At – Bill Schnee Studios
Recorded At – The Bunny Hop
Recorded At – 41B Studios
Recorded At – O'Henry Sound Studios
Mixed At – Bill Schnee Studios
Mastered At – The Mastering Lab
Published By – See This House Music
Published By – Swot Patch Music
Published By – Marquis III
Published By – Word Music
Published By – Martin Noyes Publishing
Published By – Todah Music
Published By – Nanacub Music
Published By – California Phase Music
Published By – Whitney Katherine Music, Inc.
Published By – Birdwing Music
Published By – Waif Productions Ltd.
Published By – ATV Music Ltd.
Published By – Paragon Music Corp.
Please follow and like us: