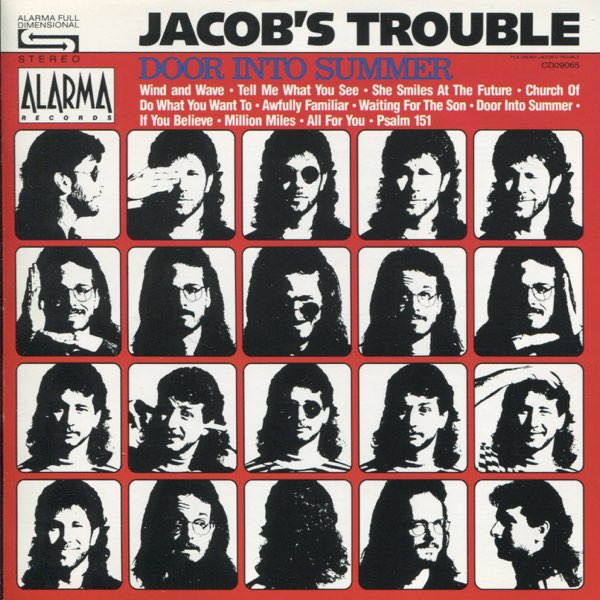 This was the introductory album from Jacob's Trouble. I can't find any info on the band before they hit the studio to record this album. The album was produced by Terry Taylor (Daniel Amos) and Gene Eugene helped out on keyboards. The album features both a Monkees cover "Door Into Summer", and a Beatles cover "Tell Me What You See", The rest of the album has a Beatles / Monkees feel and sound too. Their future albums were better received than this one and I can understand why. This album seemed kind of dull to me. I just can't get excited about it. It's not a bad album just kind of dull. That said this is an important milestone in CCM music for who the band was and what they would become.
Tracklist
1 – Wind And Wave – 5:14
2 – Tell Me What You See – 3:20
3 – She Smiles At The Future – 3:59
4 – Church Of Do What You Want To – 4:45
5 – Awfully Familiar – 4:58
6 – Waiting For The Son – 4:15
7 – Door Into Summer – 3:07
8 – If You Believe – 4:22
9 – Million Miles – 3:28
10 – All For You – 3:38
11 – Psalm 151 – 3:51
Credits
Acoustic Guitar, Backing Vocals – Terry Taylor
Art Direction – Ed McTaggart
Backing Vocals – Jerry Chamberlain, Ric Alba, The Troubling Jacobury's
Bass [Rickenbacker], Vocals, Keyboards, Backing Vocals – Steve Atwell
Drums, Vocals, Tambourine, Backing Vocals – Jerry Davison
Engineer – Gene Eugene
Guitar, Twelve-String Guitar, Acoustic Guitar, Vocals, Backing Vocals – Mark Blackburn
Guitar, Keyboards, E-Bow – Greg Flesch
Photography By – Michael Seeley
Piano, Keyboards – Gene Eugene
Producer – Terry Taylor
Tambourine, Maracas, Percussion [Etc.] – Alex MacDougall
Written-By – Jerry Davison, Mark Blackburn, Steve Atwell, Terry Taylor
Companies, etc.
Copyright (c) – Broken Songs
Distributed By – The Benson Company, Inc.
Please follow and like us: